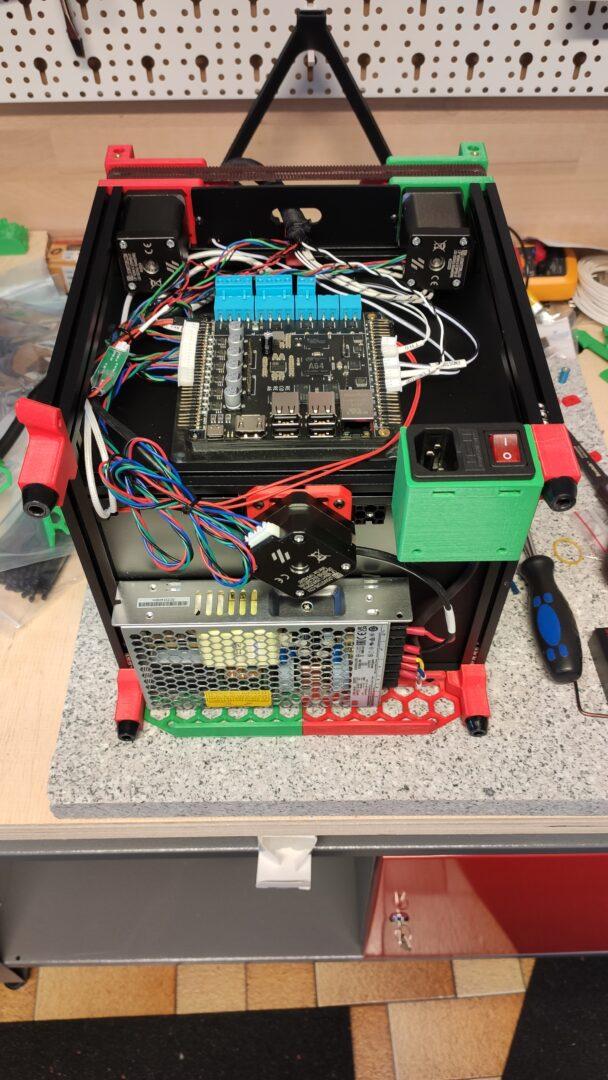 When your 3D printer encounters problems, it's essential to find a fast and reliable solution. At 3D ETPLUS, we're proud to offer you a top-quality 3D printer repair service. As specialists, we understand the importance of geographical proximity, and we'll be your sole point of contact during every stage of your 3D printer troubleshooting.
3D ETPLUS, a team of skilled professionals
Our team of qualified technicians has extensive experience in repairing 3D printers of all makes and models. Whether you're using a consumer 3D printer or a more advanced industrial printer, we have the skills to diagnose and resolve problems quickly. We understand how important your 3D printer is to your projects, and we're committed to providing you with an efficient repair service.
A single point of contact to simplify your experience
When you choose our 3D printer repair service, you benefit from our one-stop shop that simplifies your experience. You no longer have to juggle multiple contacts or get in touch with different service providers. We take care of every aspect of the repair, from problem analysis to actual resolution, including replacement of faulty parts. Our aim is to provide you with a smooth, hassle-free experience.
Geographical proximity, an asset for rapid repairs
We understand the importance of speed in repairing your 3D printer. Our location, between Lausanne and Geneva, means we can easily service the whole canton of Vaud, as well as all other Swiss cantons. No need to worry about shipping delays or the hassle of international shipping. Simply visit us or contact us, and we'll be there to help you quickly and reliably. Our aim is to get you back to 3D printing as quickly as possible.
Commitment to customer satisfaction
Your satisfaction is our top priority. We are committed to providing a top-notch service that meets your specific needs. Our team strives to offer you a tailored and reliable solution for the repair of your 3D printer. With 3D ETPLUS, you can rest assured that your 3D printer is in good hands!
What's involved in repairing your 3D printer?
Diagnosis
The best way to start is to contact us by phone. Explain the problem. Following a diagnosis by one of our technicians, we provide you with a free estimate of the work to be carried out.
If you accept this, the next step is to bring the machine to our premises in Gland (a trip to your site is possible, but will be charged extra).
We will then carry out a second visual diagnosis. This will enable us to confirm or invalidate the first. You'll then receive a much more precise quotation, at an additional cost, specifying the extent of the parts to be replaced or modified. This estimate will also specify whether software updates are required.
The repair itself
Online
This can initially be carried out by telephone or videoconference. Depending on the problem, we identify the parts that are malfunctioning. For example, the nozzle may be clogged, the fan may have stopped working, or there may be a fault on the circuit board. If you're skilled enough, we can carry out the work via videoconferencing, assisted by our technicians.
On site
As you'll appreciate, some repairs may require on-site visits.
Replacing a part on some printers requires special know-how. That's why we guarantee safe dismantling and reassembly of the machine, as well as recalibration. You'll be able to resume printing with peace of mind once our intervention is complete.
As you can see, we take good care of your printer at 3D ETPLUS. The ease of our troubleshooting and repair process will give you peace of mind as you go about your business.
For total peace of mind, you can take advantage of our maintenance contract for your printer(s). If you'd like to discuss the best option for you, please contact us.