The F1W from 3D Evolve, a high-quality, high-precision 3D printer
The brainchild of Italian start-up 3D Evolve, the F1W is a highly accomplished machine in every respect. Its designers have studied every component down to the smallest detail for optimum results. It's a product that's constantly being improved, and 3D ETPLUS provides invaluable assistance in this process. But what makes it so unique compared to its competitors?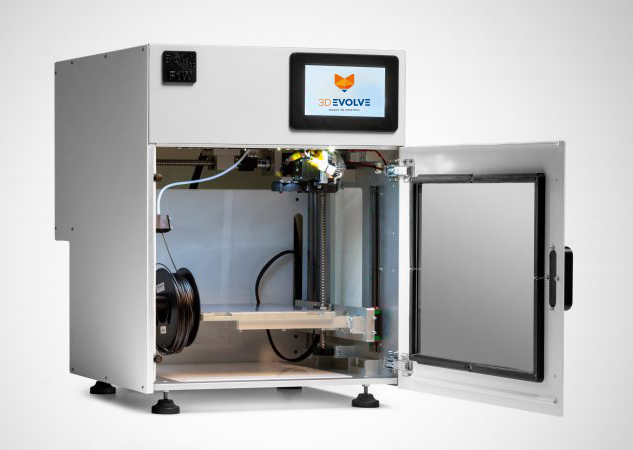 The F1W professional 3D printer's quest for perfection
Its structure has been carefully thought out. In fact, it uses a frame made of Peraluman, an aluminum alloy whose main alloying element is magnesium. Magnesium is an excellent ally against corrosion, and has interesting properties in terms of weldability and ductility.
The copper 3D printing plate can withstand temperatures of up to 200°C, and remains thermally stable. Add to this a printing surface made of harmonic steel, known for its high strength and elasticity, and you've got a perfect combo in terms of support for your print parts.
The printer's axes move with 3D Evolve's patented system of preloaded ball screws and industrial-grade guides. This gives it a positioning accuracy of 0.001 mm. The machine's high level of definition is simply incredible when you consider that you can print objects up to a print volume of 230 x 230 x 230 mm!
What's more, there's automatic Z-axis calibration: this is very practical, as it maps the values at the various points on the print plane and automatically corrects print head movements to compensate for possible deviations in the planarity of the print surface.
If you add a hardened steel extruder (which gives it heat-resistant properties of up to 550°C), interchangeable nozzles in single or double configuration (in the double configuration, you can print with 2 different colors, with 2 different types of filament, or as part of soluble construction supports), you complete an already well-supplied picture.
What needs does the F1W high-precision 3D printer meet?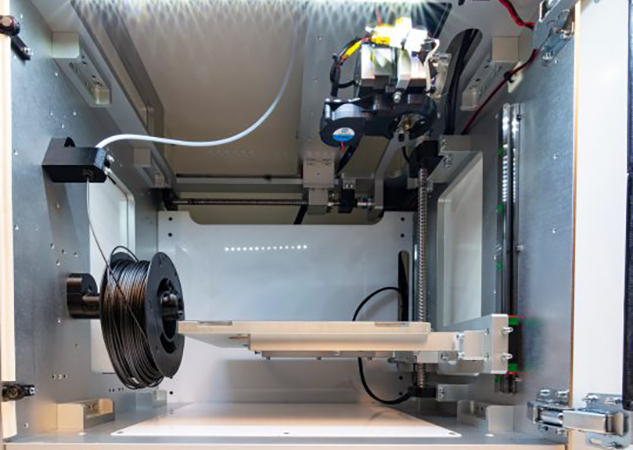 The advantage of this printer is its ability to use virtually any type of filament. In fact, its extreme precision and the resistance of its components to high temperatures make it an essential partner in the production of your parts or objects.
This versatility means your machine can be put to a multitude of uses in a wide range of fields.
By way of example, we're going to show you what the F1W is capable of achieving when coupled with innovative filaments.
In the automotive or medical fields, where you need extreme precision and high part strength, the use of PEEK (Polyetheretherketone) filaments can prove essential, as this polymer is known to be resistant to high temperatures (260°C), deformation and wear, and is sterilizable.
Functional prototyping has literally been transformed by 3D printers. To this end, the use of innovative consumables such as PMMA (Polymethyl methacrylate), which is highly resistant to mechanical distortion and to a degraded external environment (UV, rain, etc.), will not pose any problems of toxic vapour release for the F1W, which has a totally hermetically sealed printing chamber.
If your company manufactures a wide range of objects in sectors as varied as electronic equipment, consumer products and mechanical components, our printer will have the capacity to shape objects using POM filament. Its ease of printing combined with interesting thermal and mechanical characteristics make this filament a first-choice option.
Still with this idea of broad-spectrum production, the F1W can use nylon filaments. They can be found in tools, mechanical parts, electronic components, housings, bushings, bearings, fasteners and connecting parts, among others. It's a popular filament in the aerospace, sports and medical sectors. Durability, strength and flexibility are the key words that define this consumable.
Of course, it is also possible to use fiberglass- or carbon-filled polymers for specific applications in the electronics or electrical sectors, for example.
Finally, who can do more can do less! For your tests and first jets, less expensive filaments such as PET, PETG or ABS will be a preferred option, as these are also perfectly handled by the printer.
As you can see, the F1W will meet virtually all your 3D printing needs, combining professional quality with exceptional precision. Contact us for more information!